Prepare to be entertained on Your campus
David Hall has been performing his interactive college hypnotist show "Cards Against Hypnosis" for many colleges and universities around the country.
This is an interactive show where the audience gets to choose throughout the show on what skits they want to see the hypnotized people do. In fact, it is extremely entertaining and a lot of fun!
As a matter of fact, this college hypnotist show works great for Welcome weeks, Orientations, Family weekends, Halloween, Late night events, Weekend programming and many more different occasions creating great memories for students!
So, get ready to be engaged and entertained on your campus by this hilarious hypnosis show!
Cards Against Hypnosis - Halloween Edition: "Trick or Trance"
This version of "Cards Against Hypnosis" is a side-splitting comedy hypnosis show that brings together laughter and the spirit of Halloween. As an active participant, you'll vote for the hilarious Halloween skits you want to see and watch as David hypnotizes volunteers to bring them to life. It's an interactive and unforgettable experience that guarantees non-stop laughter, surprises, and Halloween entertainment like no other!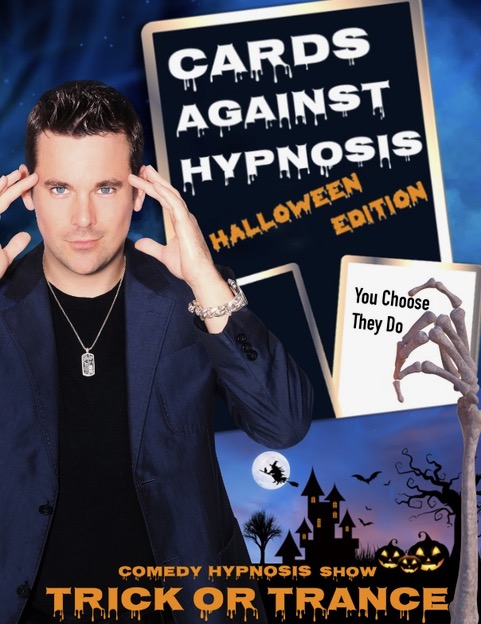 Double Show
Besides the hypnosis show, David also offers a mentalist  show that he performs with his partner Antonina. 
Get ready to be engaged and entertained by their uncanny ability to read the thoughts of audience volunteers, make astounding predictions and uncover and expose other mysteries and coincidences in this 60 minute show! www.ADmentalists.com
By all means, this show is wildly popular among colleges and universities!
Moreover, if your school is planning a multiple hour event, there is an option of having a double show. For instance, the event can start with a mind reading show and then continue with a hypnosis show after a small intermission.
Overall, David is happy to work with your specifics and help you create an unforgettable event for your school.  Please
contact
him if you have any questions. 
.